Kortingsactie voor fans van The Crown
Heb jij afgelopen weekend ook direct seizoen 4 van The Crown gebingewatched op Netflix? En kan jij ook geen genoeg krijgen van het Britse koningshuis? Dan hebben wij nu de ultieme leestip voor jou: De hofdame van Anne Glenconnor.
Als maid of honor tijdens de kroning van koningin Elizabeth en hofdame van prinses Margaret was Anne Glenconnor een unieke getuige van de recente Britse koninklijke geschiedenis. In haar memoires geeft ze niet alleen een kijkje achter de schermen van het koningshuis, maar schetst ze ook een beeld van een generatie aristocratische vrouwen die gevangen zat in een wereld vol sociale verwachtingen.
De hofdame is t/m 31 december verkrijgbaar voor € 19,99 (ipv € 23,99) met deze kortingscode 904-11062. Vul de kortingscode bij het afrekenen in bij jouw online boekhandel.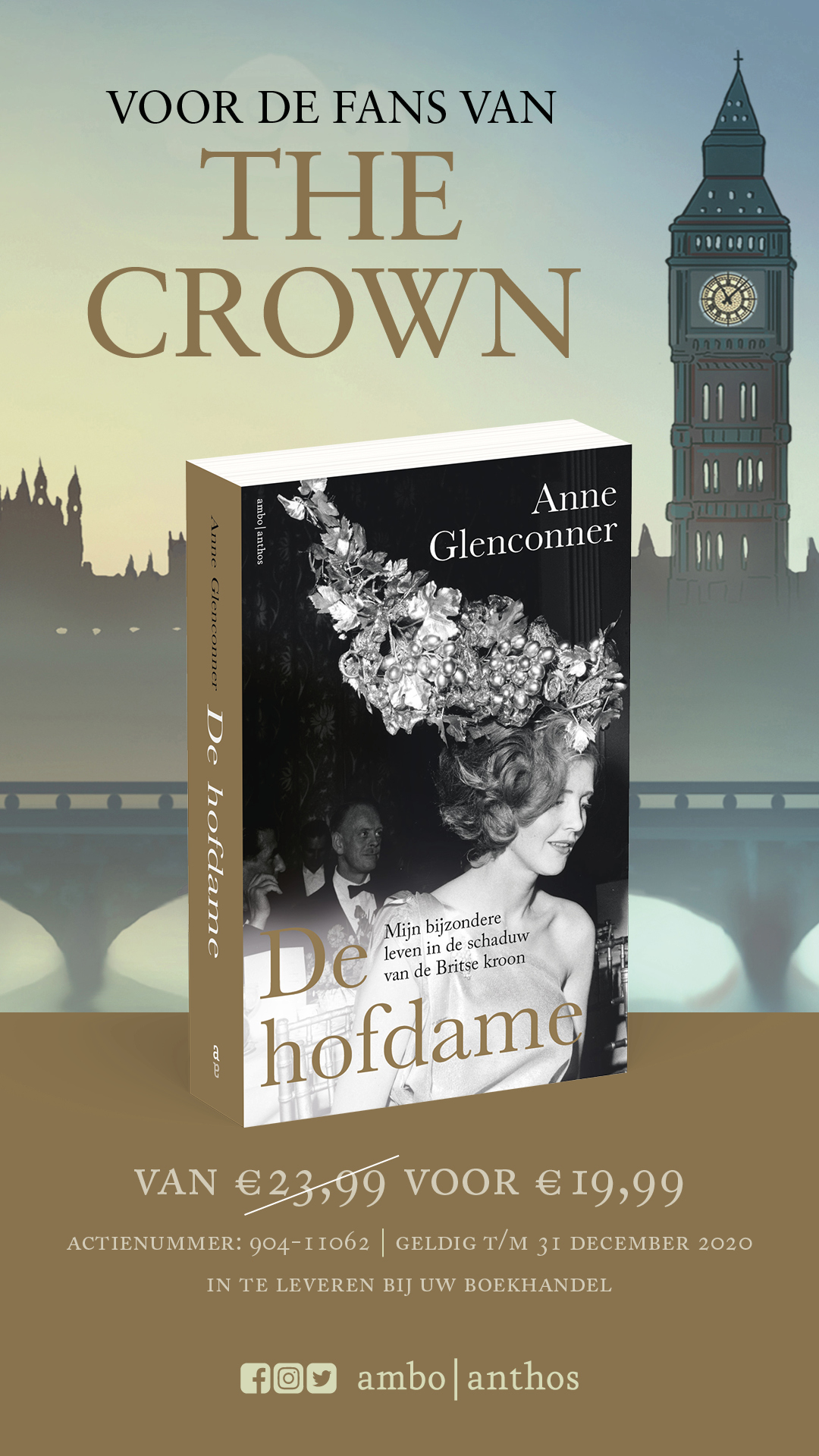 Notice: Trying to access array offset on value of type bool in /home/amboanthos/www/wp-content/themes/amboanthos_2020/includes/block-book.php on line 30

Notice: Trying to access array offset on value of type bool in /home/amboanthos/www/wp-content/themes/amboanthos_2020/includes/block-book.php on line 31

Notice: Trying to access array offset on value of type bool in /home/amboanthos/www/wp-content/themes/amboanthos_2020/includes/block-book.php on line 32

Notice: Trying to access array offset on value of type bool in /home/amboanthos/www/wp-content/themes/amboanthos_2020/includes/block-book.php on line 30

Notice: Trying to access array offset on value of type bool in /home/amboanthos/www/wp-content/themes/amboanthos_2020/includes/block-book.php on line 31

Notice: Trying to access array offset on value of type bool in /home/amboanthos/www/wp-content/themes/amboanthos_2020/includes/block-book.php on line 32

Notice: Trying to access array offset on value of type bool in /home/amboanthos/www/wp-content/themes/amboanthos_2020/includes/block-book.php on line 30

Notice: Trying to access array offset on value of type bool in /home/amboanthos/www/wp-content/themes/amboanthos_2020/includes/block-book.php on line 31

Notice: Trying to access array offset on value of type bool in /home/amboanthos/www/wp-content/themes/amboanthos_2020/includes/block-book.php on line 32

---
Ollie en ik
Ollie en ik van Machteld Siegmann, auteur van De kaalvreter en winnaar van De Bronzen Uil, is een ontroerende roman over twee tieners die elkaar vinden in het gemis naar hun vader.

Bestel nu jouw exemplaar voor € 2,99


Notice: Trying to access array offset on value of type bool in /home/amboanthos/www/wp-content/themes/amboanthos_2020/includes/block-book.php on line 30

Notice: Trying to access array offset on value of type bool in /home/amboanthos/www/wp-content/themes/amboanthos_2020/includes/block-book.php on line 31

Notice: Trying to access array offset on value of type bool in /home/amboanthos/www/wp-content/themes/amboanthos_2020/includes/block-book.php on line 32

Notice: Trying to access array offset on value of type bool in /home/amboanthos/www/wp-content/themes/amboanthos_2020/includes/block-book.php on line 30

Notice: Trying to access array offset on value of type bool in /home/amboanthos/www/wp-content/themes/amboanthos_2020/includes/block-book.php on line 31

Notice: Trying to access array offset on value of type bool in /home/amboanthos/www/wp-content/themes/amboanthos_2020/includes/block-book.php on line 32

Notice: Trying to access array offset on value of type bool in /home/amboanthos/www/wp-content/themes/amboanthos_2020/includes/block-book.php on line 30

Notice: Trying to access array offset on value of type bool in /home/amboanthos/www/wp-content/themes/amboanthos_2020/includes/block-book.php on line 31

Notice: Trying to access array offset on value of type bool in /home/amboanthos/www/wp-content/themes/amboanthos_2020/includes/block-book.php on line 32